The bandsaw is one of the most useful tools in our workshops. A properly set up bandsaw is a joy to use, allowing the most delicate of work, cutting the thinnest veneers and finest of curves . However setting up a band saw correctly takes great skill and knowledge and is essential to obtaining a decent cut.
Luckily There are two great manuals available on this subject from acknowledged band saw experts Mark Duginske and Lonnie Bird. Either of these books will give you all the information you will need to set up and tune your bandsaw correctly. A must for the serious woodworkers book shelf.
The New Complete Guide to the Bandsaw
Learn how truly versatile the bandsaw can be with the newest volume from renowned band saw expert Mark Duginske. From its typical usage for fair curves, straight cuts, scroll work, ripping and resawing, all the way to mortise and tenon and dovetail joinery, you'll be amazed at how much you can get from one simple machine. Also includes sections on saw choice, blade choice, sharpening, tune-up and more! Full-color photographs, detailed drawings and expert instruction throughout.
For pricing and ordering information
The Bandsaw Book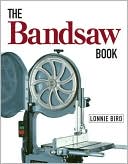 The bandsaw is one of the most widely used woodworking tools, found in 3 out 4 home and professional workshops. Although deceptively simple — a steel blade rotating around two rubber-clad wheels, the bandsaw does its best work when it's tuned properly. Unfortunately, most owner's manuals provided by tool manufacturers are difficult to understand, and the drawings and photos are unclear.In this book, professional woodworker Lonnie Bird gives all the information bandsaw owners wished came in the owner's manual plus much more — what to look for when buying a bandsaw and how to tune it up for optimal performance. The information is presented in an accessible, easy-to-understand way, making this a quick reference as well as comprehensive handbook. All the information is up-to-date and thoroughly researched. Excellent color photos by the author and a clean, friendly layout gives this book on a classic woodworking subject a fresh modern look. This clearly illustrated and photographed volume will quickly become the standard reference and is a must-have title for any woodworker.
For pricing and ordering information